Sponsored by The Lash Lounge
Many people, including yours truly, are fans of Curb Your Enthusiasm, the TV show created by Larry David who, as Kanye West says, "is the mind behind Seinfeld."
In this show, Larry David plays an exaggerated version of himself. Since David is Jewish and he is one of the writers, the show has many references to Judaism, especially in Larry David's character Larry David. In the show, David embodies a stereotypical Jewish man. From the jokes he makes to the traditions he values, he is exactly what you would expect to see from a Jewish male. Due to the highly stereotypical nature of his character, many Jewish males can relate to his performance, and many others can recognize someone they know in the character.
The show is successful because it's so relatable. The audience can relate to the events that occur in the characters' lives, the drama they go through, what they say, and the way they act. The show offers a place of comfort throughout this relatability that many shows lack.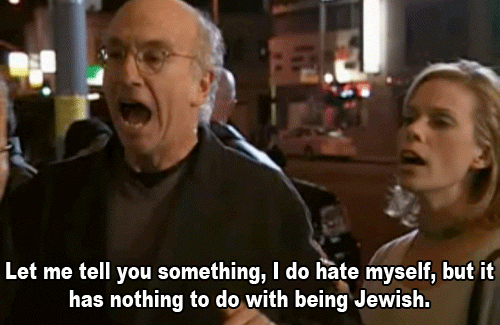 In one scene, Larry attempts to scalp tickets to synagogue for the High Holidays when all the Jews who only attend services during the High Holidays need to get one of those coveted spots at shul. In this scene, the idea to take a normal aspect of the High Holidays gets a comedic overhaul. Now, instead of placing importance on the services themselves, the show highlights the "pay to pray" nature of the High Holidays when hoards of less observant Jews attend services, making light of an otherwise crazy scenario.
The show also references Passover and the finding of the afikomen, attempting to speak Hebrew and what it means to keep kosher. It features plots that relate to stories from the Torah, but done so in a relevant way that is more modern and accessible to today's society.
In so many shows, religion isn't referenced at all, or religion is only referenced in relation to Christmas. For that reason, it's especially fun to watch how Curb portrays religion in a realistic, if not fun and outrageous way. I love seeing my own religion well-represented in television, and Curb Your Enthusiasm does not disappoint.
My friends and I love to watch together and talk about all of our favorite scenes. It's one of those shows you can watch with family and friends and just laugh endlessly about. I highly recommend everyone watch this show as I know they will get pure joy and entertainment from every episode. If you're anything like me, you'll be laughing for hours and quoting the show forever. Curb Your Enthusiasm can be found on HBO and on Amazon Prime.
As always, be sure to check out this show and let me know what you think. If you have any suggestions of something you'd like to see me write about let me know. I love hearing recommendations about shows I should check out.